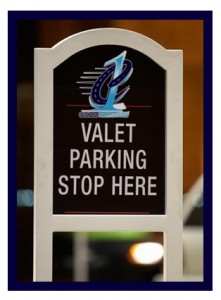 As a business owner and/or manager, you know better than anyone else that SERVICE is what keeps customers coming back and guests satisfied. You want your business to be successful and to encourage people to visit your establishment.
You take pride in your business. You set high standards for your employees. You want every one of your guests to enjoy their visit.  Shouldn't your parking service meet or exceed your own expectations?  1st Choice Valet Service understands that a parking attendant can assist you by starting your guests visit with a pleasant parking experience.
The importance of valet parking is determined by each individual business. Convenience, safety, prestige, luxury, customer satisfaction, increased business are all reasons to consider valet parking.  In order to provide consistent, high level of service, 1st Choice Valet managers will closely monitor our operations. We will check on attendant grooming and uniforms, the condition and appearance of signage and equipment, attentiveness and friendliness of attendants, staffing levels allowing for smooth traffic flow, and to get feedback from you on your level of satisfaction with our services.